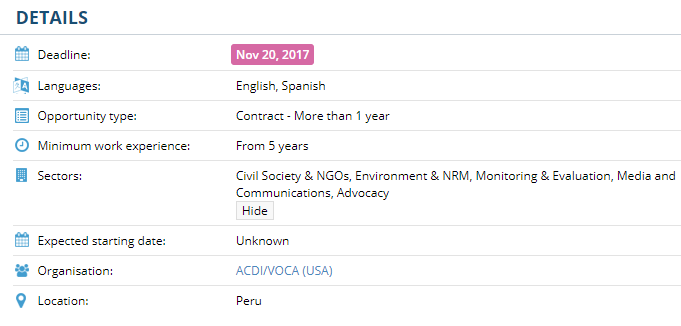 DESCRIPTION
Since 1963 and in 146 countries, ACDI/VOCA has empowered people in developing and transitional nations to succeed in the global economy. Based in Washington, D.C., ACDI/VOCA is a nonprofit international development organization that delivers technical and management assistance in agribusiness, financial services, enterprise development, community development and food security in order to promote broad-based economic growth and vibrant civil society.
Monitoring, Evaluation, Learning and Communications Manager, Peru
ACDI/VOCA is seeking a Monitoring, Evaluation, Learning and Communications (MELC) Manager for the regional project focused on strengthening Representation of Indigenous people in Governance of Amazon Forests and Waters. The project will engage private sector, governments, civil society groups, and academia in work with the indigenous groups on advocacy efforts and raising awareness of indigenous people's rights and responsibilities. The project is funded by USAID and is envisioned to start in 2018.
The Monitoring, Evaluation, Learning and Communications Manager will have overall responsibility for implementation the Performance Monitoring Plan (PMP) and communications and outreach strategy. The MELC Manager will guide teams to apply M&E information to foster adaptive management approaches and will oversee a team of M&E and communications staff across the coverage area. The position will be based in Lima, Peru and may include travel throughout Amazon basin.