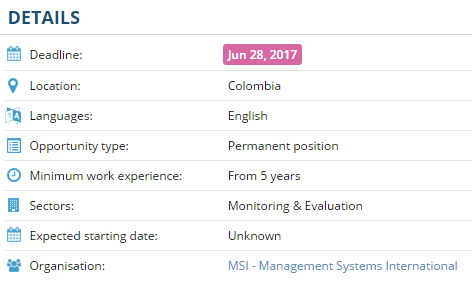 Monitoring and Evaluation Specialist, Colombia Transforma, Tame, Arauca, Colombia
Company Profile:
MSI, a Tetra Tech Company, is a Washington, DC metro area international development firm with a 35-year history of delivering development results across the world. Our core expertise is in the fields of monitoring and evaluation (M&E), institutional development, public sector management, governance, and anti-corruption. MSI implements nearly 100 projects in 90 countries around the world such as Jordan, Morocco, Lebanon, Syria, Pakistan, Afghanistan, Colombia, and Mexico. As one of the leading companies in our field, MSI has partnered with more than 80 organizations across all sectors of international development with clients ranging from large bilateral and multilateral donors such as USAID, the World Bank and the UNDP to national and local governments, NGOs, think tanks, foundations, and universities. For more information on MSI, please visit our website at www.msiworldwide.com.
Project Summary: 
Colombia Transforma is a program financed by USAID/OTI. Transforma provides support strategically aimed at achieving sustainable peace in Colombia. The initial goal will be to strengthen the institutional capacity of the Colombian government to implement rapid response during the first 36 months after the signing of the peace accords.
**Please note: Only Colombian citizens are eligible for this position.** 
Position Summary: 
This position is responsible for collecting qualitative and quantitative information from national and departmental activities carried out by the program in the Department of Arauca, generating reports, supporting with identifying lessons learned and keeping track of successes and mistakes of activities. The MES will coordinate closely with the Program Development Officer (PDO) and Field Officers (FOs) to ensure the constant updating of information in the database of the program, obtaining information of impacts / effects of activities and identifying positive and negative results. The MES will also provide the information required by the Communications and Reporting Specialist (CRS) for reporting and documenting activities. Under the supervision of M&E Officer, the MES will perform research and documentation of activities or groups of activities that are of special interest to the program. The MES will also provide feedback to the whole program team, in conceptualization and activities' evaluations, to ensure that they contribute to the achievement of the objectives set out in the strategic framework of the program.